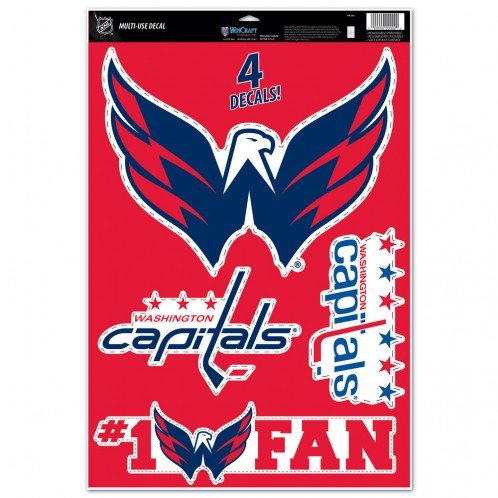 Official National Hockey League Fan Shop Licensed NHL Shop Multi-use Decals. Show Team Pride at Home, Work Man Cave with 4 Independent Decals. Removable and Reuse
SHOW YOUR TEAM PRIDE WITH THIS SET OF LICENSED NATIONAL HOCKEY League MULTI-USE DECALS
This
SET OF MULTI-USE DECALS
is made of durable vinyl that's easy to wipe clean and looks great
just about anywhere you place them. This very genourously-sized
SET OF MULTI-USE DECALS
is a great
way to show off your team pride.
The
MULTI-USE SET OF DECALS
has many features and benefits for the hockey enthusiasts:
- PROUDLY MADE IN THE USA
- Licensed National Hockey League Merchandise
- Premium Quality-made vinly Decals
- FOUR Generously-Size Decals -- Largest is at least 8" (Average size is approx 9")
- Completely Removable, Reusable and Safe on Any Surface
- Great to use at home, Work or while tailgating
- Make any item your official team item
No matter what, you'll definitely show your team pride with this High quality
SET OF MULTI-USE DECALS.
Makes for a great gift for a loved one or a friend. Great National League Hockey Merchandise at an economical price to fit
any fans budget, go ahead and
Add to Cart!
and show off your team pride all season long.
Four Completely Separate Multi-Use Decals - The Largest one averaging 9 inches
100% Removable, Reusable and Safe on any surface
Officially Licensed National Hockey League Product
Ideal for Windows (Home or Auto), Walls, Devices, Desks ... You Name IT!!!
PROUDLY MADE IN USA